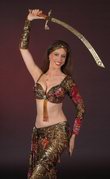 Middle Eastern people in particular are often surprised that an Aussie would be interested in learning the dance of a different culture. Once I began learning about it, though, I found the culture fascinating, and the music intoxicating. Over the years I have been learning Middle Eastern Dance, it has gone from a hobby to a passion - and the more I learn, the more I discover remains to be learnt!
I was the winner of third prize in the solo category of the 2003 Australian Bellydance Competition, as well as a member of a prize-winning trio in the groups category, along with Johara and Lee-Fay. Since then, I have performed at numerous Lebanese, Turkish, Persian and other venues throughout Sydney, as well as at concerts, functions and festivals. See my Performance page for details. I have appeared on Mornings with Kerri-Anne on Channel Nine, as well as on local Turkish and Lebanese television.
Visit my Performance and Bookings page for information about performance styles; when and where I perform; and how to book a show for your function.
I believe a dancer can never finish learning, so I am constantly seeking to further develop my skills by engaging with the Middle Eastern community, travelling to the Middle East, learning about the languages and cultures, and of course taking lessons with the best teachers Sydney (and the world!) has to offer.
During February 2005 I travelled to Egypt on tour with Ali from Egyptian Bazaar. As well as taking in the culture and history and beginning to learn the language, I was fortunate enough to take dance lessons with master teachers Raqia Hassan, Mahmoud Reda, Aida Nour and Nagwa Sultan. I have returned inspired, with an expanded repertoire and a fabulous new selection of costumes!
I have also spent some time in Turkey and speak a little Turkish (biraz türkçe konusuyorum!).
Currently I continue to learn primarily with Jrisi's Hathor Dance Studio, incorporating contemporary and world dance styles into fusion with Middle Eastern Dance; and with Päivi Mielikäinen, learning Egyptian folkloric styles and modern Egyptian technique. This training is supplemented by attending workshops and private classes presented by notable local and international bellydancers and choreographers including Amera, Dounia, Caroline Evanoff, Belyssa and Magdy El-Leissy.
My training in Middle Eastern Dance began with Clivia Frieden-Collins at Camp Creative and later developed under Vera Myronenko in Sydney. While living in Germany I learnt with Alev Seidenberg-Erisöz at Studio Saray in Bonn, before being introduced to Despina of Dreaming of Jeannie Bellydance Academy, where I began to perform as a founding member of student troupe "The Genies". I also spent some time studying with Birgit Schnettler in Munster, Germany.
My skills as a teacher of Bellydance have also developed over the years, I have conducted several courses at the University of NSW, and am frequently requested to fill in for other teachers or conduct one-off classes for parties and events. I also teach Hens' Parties on a regular basis for Pampered Hens. See my links page for details.
By the way... yes, I do have a day job. I have a Ph.D. in Psychology, and work in a research position at the University of Sydney! See my University page.